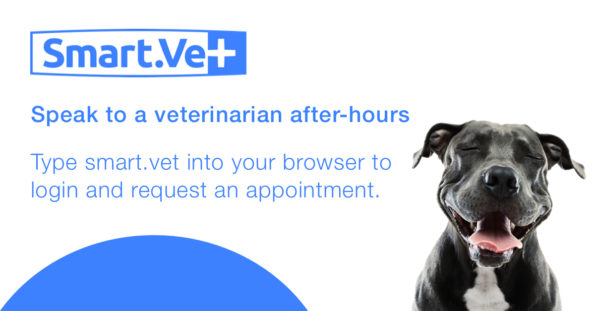 We're now offering after-hours consultations with Licensed Ontario Veterinarians through a partnership with Smart.Vet. A Smart Vet Veterinarian acts as an extension of our services by providing veterinary support virtually. When appropriate, they may prescribe medications for you to pick up or schedule appointments for your pet, during our regular office hours.
We recommend creating your account today, so you are ready to submit a request if needed. Visit https://smart.vet, and click 'Get Started'.
Once you've created an account, you can decide, from the options listed, to send in a message or request a phone / video call. Fees apply for Smart.Vet services. Please note that messages are meant for non-urgent cases and will be responded to within 8 hours of submission. When you've submitted a phone / video request, a Smart Vet Veterinarian will reach out to you as soon as they're available. Please wait for a call from 289-768-8784. This may take more than 20 minutes when experiencing high call volumes.
Once a request has been submitted, you can add additional notes or add images / videos to the consultation for the veterinarian's reference. If you have any issues during scheduling, you can send an email to [email protected].
We encourage you to contact our office if there is anything your pet requires during regular office hours. Smart.Vet is meant to function primarily as an after-hours / weekend service to support you, your pet, and our Veterinarians. If your pet requires urgent care, a Smart-Vet Veterinarian can arrange a visit and send all relevant information to an emergency hospital that can accomodate.
Wishing you and your pet good health!
Brockville Animal Hospital
613-345-3401