Did you know you could make a donation to our "Angel Care Fund" ?
This fund was created to help assist our clients who are in need of assistance during unforeseen medical emergencies.
We at the Brockville Animal Hospital know there are times when medical needs arise for a pet owner who is experiencing financial difficulties whether it is a job loss, illness, or any number of reasons.
Would you, if faced with a similar situation, want to be forced to say "I can't afford that" knowing that you're pet will suffer? We hope you never find yourself in this heartbreaking situation, but it can happen to anyone, and that is why we created the Angel Care Fund.
One day, someone right here in our own community is going to need a little help for their pet. As part of our community, we, just like you, want to be among those who help others because we appreciate the powerful emotional effect our pets have on us.
But it doesn't end there. We hope that those needing this temporary help will be able to pay the kindness forward by donating to the fund when they are back on their feet financially. The Angel Fund is here to help, not to offer free veterinary services.
It takes a special "breed" of person to offer such generosity to someone you don't even know. If you would like to help us help animals in need, and put a pet owner's mind at ease, please donate today!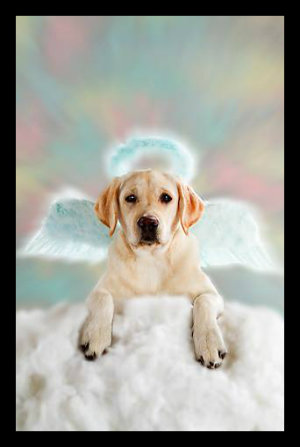 To make a donation to the Angel Fund contact our office at 613-345-3401 or stop in.