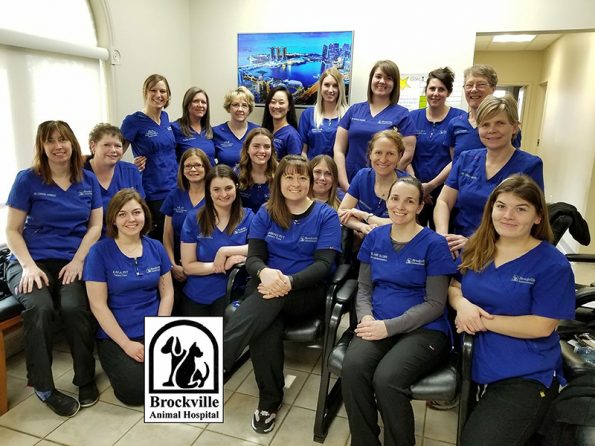 The Brockville Animal Hospital is a full service companion veterinary hospital founded in July, 1979. We are committed to providing comprehensive pet health care with a personal touch. Our staff members are dedicated pet owners and each and every pet we see is cared for just as we would care for our own. The Brockville Animal Hospital was relocated to its current location in 1987.

As a team, we focus on providing the most current medical care & surgical techniques for your cats, dogs, exotics & pocket pets. Our goal is to provide exceptional veterinary medical care to our patients. Our staff regularly attends continuing education programs to provide your pets with the most up to date medicine. We have a team of friendly and caring staff who strive to exceed your expectations at each and every visit.

We are committed to you and the well-being of your pets.
– Your Brockville Animal Hospital Team
We have lots of options to stay in touch:

We love to participate in many community events! If you see us, be sure to visit our both at events such as:
Street Eats, Downtown Brockville
Brockville Off-Leash Dog Park BBQ
Fairies In The Park, St. Lawernce Park – Brockville
Cornfest, Athens
Kinsmen Snowsuit Drive fundraising
St. John's ambulance pet first aid courses
Canine Blood Donor clinics
Brockville Animal Hospital Wellness Fair
Brockville Santa Clause Parade
Brockville Animal Hospital P.A.W. Plans
Trim 4 Tins food Drive with proceeds going to Harvest Share
Brockville Bark For Life Cancer walk
Client Education nights at the Brockville Animal Hospital: Pet nutrition, Dental disease, Senior care
Aquatarium: involvement in the facility and animal care
OSPCA "around the world in 80 spays" fundraiser
"Big Ideas for a Strong Business" small business trade show