Time to think about getting your dog tested and vaccinated against lyme disease.
Its important to test for Lyme disease now, to make sure we catch lyme postive dogs before they are clinically ill!
Since January 1st 2015, we have had 103 dogs test positive for Lyme disease!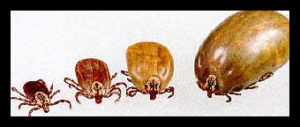 March is Lyme awareness month here at the Brockville Animal. Last year we had 100 positive cases of Lyme disease at our hospital. A statistic released by IDEXX for this area shows that every 3 in 10 dogs will test positive for LYME disease. LYME disease can be prevented by vaccinating, using monthly topical preventatives, diligently checking your pets after they come in from the outdoors. A small blood sample in spring & fall will ensure your pet has not come in contact with a positive tick and preventatives can begin. If your pet does test positive, meaning they have come in contact with a positive tick we would begin a course of antibiotics that would be given for approx one month further bloodwork may be required. Lyme disease can cause stiff, swollen joints, Flu like symptoms and worst case scenario Kidney disease.
Lyme disease can be prevented with do diligence.