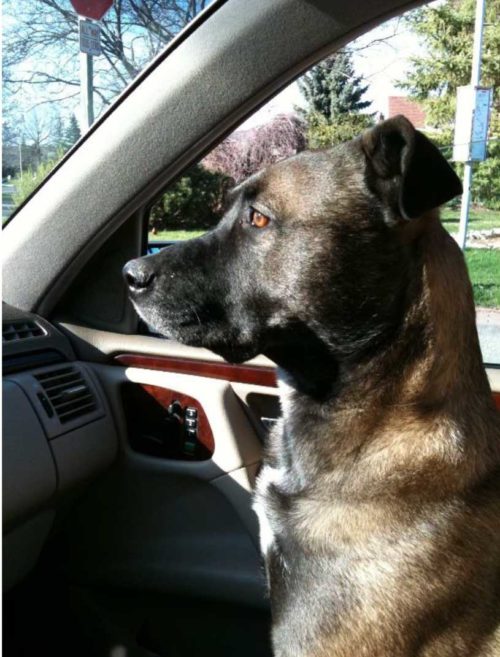 Max
May 8, 2008 – May 5, 2022
Our beloved Max passed away peacefully on May 5, 2022 on his favourite bed, with his dog parents holding him, at the Brockville Animal Hospital. Brave until the end, Max's lipoma growth began to interfere with his spirited outlook on life and test his sense of humour.
He was born 14 years ago and was discovered roaming free on the streets of Cornwall, Ontario before coming into our lives as a pup. When he joined our family, he was adopted by his canine big brother (Tonto) and sister (Bella). Later Max adopted a French hearing Australian Shepard named Blue. Sadly, all Max's brothers and sisters predeceased him including his canine brother Ridge and two feline brothers – Sabastian & Elliott, that he never met.
A very determined young man, he gnawed the inside of our family car twice including a power driver's seat. Later, we gifted him his own "Max Mobile" and we never had any issues after that. Thankfully, Max graciously let us drive him around in his car which he had us change out several times – mileage being the issue, not chewing.
A lover of couches, dog beds and Denta Stixs; Max had many hobbies, some of his favorite activities included car rides, chasing squirrels, destroying carboard boxes, barking at things not there, cuddling alongside you to watch NetFlix, taking over his dog parent's bed at night, licking his butt, and trying to figure out who exactly was "the good boy".
His only fear in life was a mosquito in bed at night which caused his dog Mom to wake suddenly as he perched on her head. Max was loved by everyone who met him, although a few were initially a little scared by his "Pitty" greeting. More than anything, Max loved his dog Dad. From a young pup, Max would lie on his bed in his Dad's home office for hours on end, only to stir when his Dad left the room. During COVID, he was an attentive listener on Zoom calls and only ever offered opinions when someone was just being stupid.
We will think of Max every time we see a dog with its head out a car window, open a jar of peanut butter or light the BBQ. Oh, how he loved BBQ.
Max will be sorely missed by everyone who knew him, but never forgotten; his face literally tattooed on his dog Dad's arm. A true friend, Max was what dog legends are made of; leaving us with his fierce unconditional love that never waivered.
In lieu of flowers, the family asks that you give your four and two legged friends some extra love and some BBQ in remembrance of Max.