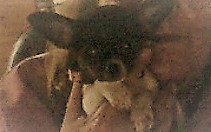 I want to say thank you to the Brockville Animal Hospital for taking
CARE of my precious Stephie while no one in my area of Smiths and Perth
would see her when she needed them the most. Stephie was to young to
pass. She was very tiny but boy she loved to play fetch, never had a
dog that would do that, she also gave High Fives, bowed and stood tall
and put her head on my shoulder when asked. I miss her so so so much
and see her in her favorite spot by the window. Thank you as well to
Shannon King for helping me during this time, she went above and beyond
to help her and me. Stephie you will always be loved and greatly missed.
Aline A. Levesque